Simple Security Made Smarter
Powered Wi-Fi Connection

Connect in minutes to your Wi-Fi network

See More

Wide 105° viewing angle reduces blind spots

2K (4MP) Quad HD

2x the resolution of 1080p for enhanced detail and better digital zoom

True Detect™

Heat, motion & person sensing for reliable alerts

Talk & Listen

2-way audio to check-in with family, pets or warn intruders

Easy to Install/Mount

Table, wall or ceiling mounting using convenient magnetic base &/or metal wall mount

Free Recording

Save clips to the cloud (rolling 24 hours, 60 days via Secure+^)

Indoor Security

Position inside to know what's happening
Baby Monitor
Keep an eye on your baby while you're away. View, listen and talk.
Stay in Touch
Make sure relatives in need are okay, even if you're miles away.
The Perfect Pet Cam
Check in on your pet's secret life while you're at work. Interact with the 2-way talk.
Safeguard Loved Ones
Position inside to know what's happening.
Easy Installation

Direct wireless connection to Wi-Fi router. No hub, no DVR.

Get The Full Picture

The wide 105 degree field of view covers broad areas, so that you can have fewer cameras around your property. 2K HD video has twice the detail of 1080p, so you can see even more.

Protection 24/7

See in the dark up to 50ft (15m) with powerful infrared night vision which automatically kicks in as night falls.

Talk & Listen

Talk to visitors, warn intruders or sound the siren to scare them away.

Speak to See

Use your voice to live stream on any Hey Google or Alexa device with a screen, including Chromecast devices. Customize & use phrases like "Alexa, show the front door" or "Hey Google".

Truly Reliable Security

Motion with heat, like people and cars, trigger recording, push notifications, the spotlights & siren, for more relevant recordings, alerts & deterrence.

Set & Forget

Recorded activity is saved to the cloud for a rolling 24 hours, with up to 60 days of storage available with Secure+ Member Plans. You can also save clips to a Micro SD card (not included).

Want More Security?

Receive peace of mind from having additional cloud video recording, smarter alerts, rich notifications, 3 year extended warranty, insurance coverage & exclusive special offers.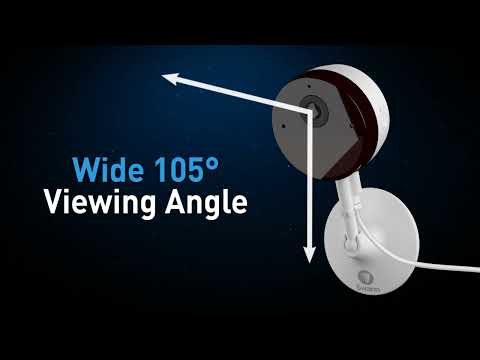 Swann 2KI Indoor Wi-Fi Camera - Intro (Oct 2022)
Swann Security App
Security in the Palm of your hands
Multi-camera live streaming that's always on
Receive alerts when activity is detected
See, store & playback footage & image on your mobile device
Speak to see with ease
Become a Swann Member for More Security
Now you can become a member of Swann's Secure+ Member plans for a host of extra security benefits including 3 years extended warranty, insurance coverage, special offers & more.
'Refurbished' products are complete and in full working condition. They may have previously been used as demo stock or returned from retailers. Products will also be shipped with original content as listed on the packaging. Swann's technicians have certified the products are ready for use with a 3 month base warranty. Occasionally minor cosmetic scratches and wear may be present.